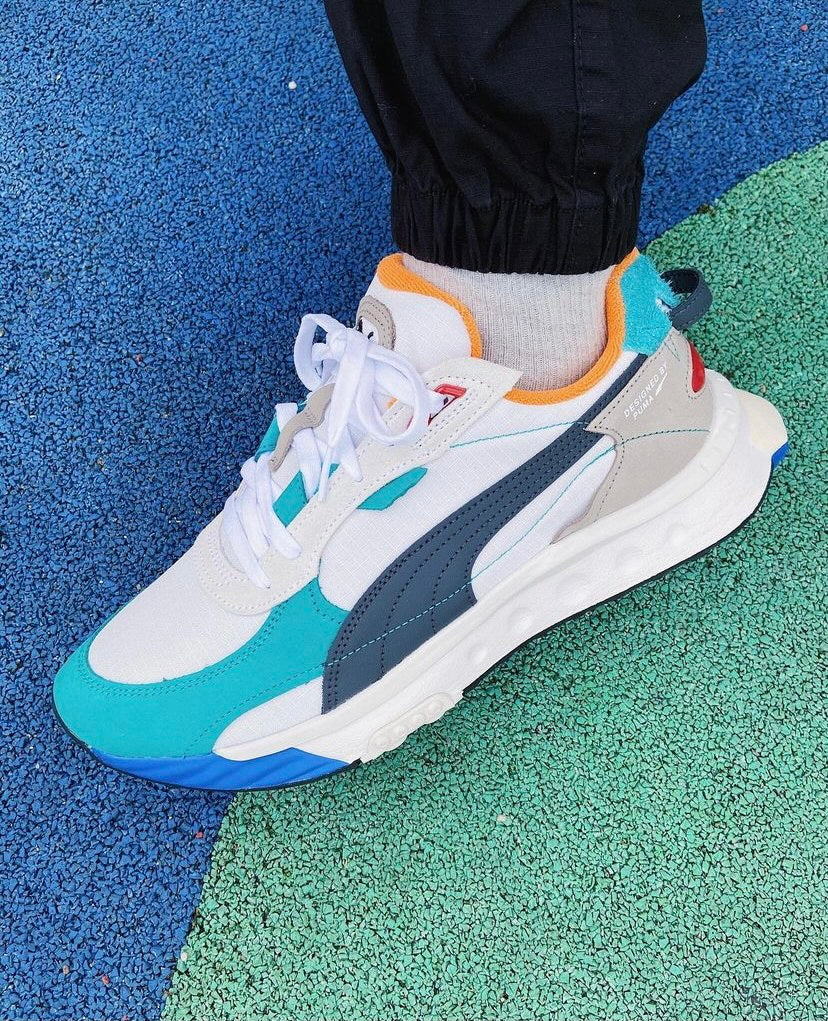 in Fashion News
Our Top ten trainers of 2021 under £100
Hype trainers are great to have, we all love them. But let's not act like our entire trainer collection is packed only with exclusive releases, as most of us began building our collections with our favourite general releases and still enjoy picking up a few every now and then.
We wanted to challenge ourselves to put together a list of our top trainers under £100 to remind ourselves of the ones that are comfortable, look great and won't break the bank.
1.     Puma Wild Rider.
A shoe that has Jay Z's stamp of approval. The beautiful silhouette of the shoe is inspired by the movement and motion of city life. It comes in a few colour ways, including white and grey. It is a lightweight shoe, with nylon and suede overlays.
2.     Adidas Ozelia
Are you a YEEZY fan, but perhaps are not willing to spend at least £180 for some trainers? Then the Adidas Ozelia is the pair for you. With a similar look and feel to the YEEZY 700s, this shoe will give you all the YEEZY vibes and comfort but for a quarter of the price!
3.     Nike Air force 1.
A classic pair and wardrobe essential that we love at JM Drops. Not to mention the versatility - you can choose from their low, mid and high tops for a variety of looks. The colour palette is also diverse, with a lot of Air force's being made with more premium materials in recent years. Finding a pair for your outfit should be easy
4.     Adidas Stan Smith.
A redesign of Adidas's iconic Stan Smith trainers, which have remained popular for over 50 years. The Stan Smith's also play a role in global sustainability with 50% of this trainer being made from recycled materials and is part of Adidas' commitment to use only recycled polyester by 2024. Looking for a wallet friendly pair that Is also helping the environment? Then look no further.
 5.     Classics Club C legacy revenge trainers.
Reebok is that trainer that gives us a feeling of nostalgia yet they continue to produce trendy footwear that we are fans of. The legacy revenge is a pair we just had to include in our top 10 list and is on the more affordable side of things.
6.     Adidas Forum 84 Low.
A favourite among celebrities. It retains designs from the original going back to 1984 but with a modern twist. The colour palette accommodates those who fancy a bit of colour and also the laid-back kind of guy with the neutrals.
7.     Reebok Zig Kinetica edge.
Going for a rugged look? This is the shoe. It comes with bungee cord laces and outdoor details that give it an overbuilt look. This is technically a running shoe, but we have seen time and time again over the years how trainers that are meant for activity/ not necessarily for style have become essential wardrobe pieces such as the Nike Roshe Run.
8.     The Puma States.
A shoe that screams retro vibes, and one that boasts of a rich history going back to 1984.
9.     Adidas Gazelle.
A shoe that doubles in functionality. Perfect for streetwear and if the need be, for activities too. These shoes debuted as a training pair for indoor football, handball and other games where speed is required.
10.
   

Vans Acer Ni SP.

A shoe that makes a statement with its iconic checker board highlights. This shoe will definitely elevate your outfit to the next level.